Vehicle Recovery in Lafayette LA
If you are looking for fast, safe, and reliable vehicle recovery in Lafayette, LA, look no further than our Gene Robin Towing team! We can assist with any type of vehicle recovery. We hope you never find yourself in an accident, but if you do, and you need your vehicle recovered, we will be more than happy to help. Our team has plenty of experience in assisting in all types of situations, such as broken down cars, and even a highway wreck with a heavy duty semi tractor-trailer. We don't just provide this service to drivers in Lafayette, LA, we also provide service to drivers in surrounding areas!
24/7 Towing Service
Whether you are looking for light, medium, or heavy duty towing service, we can handle the job. We are here for you 24 hours, 7 days a week. We can tow your motorcycle, car, RV, bus, or heavy duty truck. There is no job our team can't handle. We promise five star service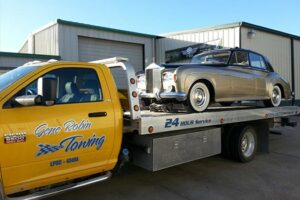 to all of our customers, and we will never leave you stranded. We understand that no one plans on having to call a tow company, which is why we make the process as simple and stress free for you as possible.
We also provide roadside assistance to drivers in the area.
Need Assistance?
If you need assistance, don't hesitate to call on our Gene Robin Towing team. Just give us a call at (337) 232-7206. Our dispatchers are on standby, awaiting your call. We hope to help as many drivers as we possibly can in Lafayette, Broussard, Youngsville, and beyond. If you are in one of these areas, or a surrounding area, just reach out to us for service. When you make Gene Robin Towing your go-to tow company, you will never be left disappointed. You can always trust us to take care of your vehicle and give you speedy service.